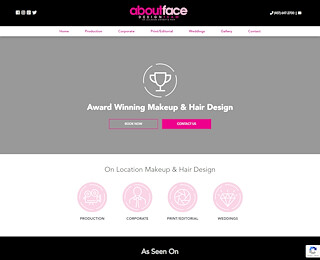 While many people on their special occasions such as their wedding day may have the impression that they can do their own makeup and hair, it's never a good idea. You should look back on your photos and be glad that you felt and looked your absolute best. Professional makeup is a different ball game from what many women are used to doing daily. Professional hair and makeup artists have the right training to contour your face perfectly, therefore accentuating your best features. They also use superior quality products to give you lasting and excellent coverage all day long.
On the other hand, applying your makeup can lead to a couple of flaws that will be exposed on camera. The same goes for hair. A professional stylist will know how to handle all types of hair and use the right products and tools to ensure it stays the way you want throughout the day. If you're searching for the best on location hair and makeup artist in Orlando, at About Face, we've got you covered.
Importance of On-Location Hair and Makeup Artists
Looking good on your wedding day or when running a production, be it a show, commercial or live event, is crucial. These moments call for the availability of a hair and makeup artist on location to make adjustments and prevent things from going wrong. There are various benefits of having an on-location makeup artist, including:
Having A Stress-Free Event
Rarely do things pan out the way they're supposed to in most events. This means that you're constantly on edge, trying to make sure all the wheels are moving smoothly, be it in production or back-to-back interviews, or looking great as a bride throughout the day. Hiring an on-location hair and makeup artist gives you one less thing to worry about. A professional artist will remain calm even in high-pressure situations to deliver the best experience. 
Professional Hair and Makeup at All Time
There's a huge difference when makeup is done by a professional, and when you do it yourself. Our makeup artists understand there are different products in the market. They'll use the right ones to ensure you have that perfect look. They'll also come with their tools to achieve the best outcome.
It's no surprise that a professional on location hair and makeup artist in Orlando will do an impressive job in only a short amount of time. Besides, it is their job to do amazing hair and makeup, and they are used to working under pressure. As such, you won't have to worry about having to re-do your eyeliner or eyebrows because of unsteady hands.
As a client, you never have to go out of your way to maintain your hair and makeup as the professionals are conveniently available on set. You will also be able to request adjustments without any hassle. 
We'll Make You Look Stunning on Your Special Day
Whether it's a corporate event or you want to have unforgettably beautiful wedding photos, it's important to have an on-location hair and makeup artist in Orlando. To look simply amazing from the minute your event begins to when you call it a day, get in touch with us on (407) 647-2700. Our experienced professional artists are here for you.
About Face Design Team
4076472700
601 S. New York Ave.
Winter Park
FL
32789
US